Sex Fantasy Stories: Let All Your Fantasies Come Alive
Welcome to Sex Fantasy Stories - Get ready to settle in and enjoy sheer erotic indulgence. Our sexual fantasies are rich imaginary landscapes and it's always fun to add in an extra element of fantasy. These stories are written for straight women although anyone can enjoy them, of course.
The All-Orgasmic Loveseat

Abruptly the cushion beneath her began to move. She heard faint whizzings, and without warning large leather clamps emerged from the leg and arm rests, grabbing her limbs and pulling her firmly back into the soft grasp of the chair. She was held fast, her legs open, her arms unable to fight. Before she could think of how to respond, something emerged from the seat cushion and positioned itself between her legs. It seemed mechanical, but it moved with the fluidity of an octopus arm. The best description she could think of was a mechanical tongue...
Read on...
Cleopatra's Pleasure

"The Isis-men, your majesty," the maid said, and Cleopatra opened her eyes.
Three sinuously muscled men stood at the foot of her bed and bowed to her. They wore only loin cloths, and their biceps rippled as they moved, a sensual grace directing their limbs.
They unpinned her robe and let it fall away, leaving her firm body naked before them. They rolled her onto her stomach, gentle hands lingering and leaving tingles on her flesh...
Read on...
Moonspell

"The master calls."
Not waiting for the grumbled acquiescence, she hurried to obey the man's shout, rolling her eyes when he again yelled, "Slave!" If he knew what he was dealing with, perhaps he'd be a little less impatient, she thought.
It was the third time this week. She wasn't sure whether to be anxious or joyful about his increasing interest. Things were progressing perfectly, yet her life balanced precariously enough already...
Read on...
Polished Ebony

Allowing his hands to explore further down he coated her belly with the slippery oil. The sensation of his fingers sliding so easily over her made him grin. As he rubbed the oil over her sides she giggled and squirmed and he started to laugh. There was no where for her to go to... she was staying in place. He continued until she could barely breath and then allowed her to rest.
He loved the way his white hands looked on her skin, such a sexy contrast. He slid them further down and parted her thighs...
Read on...
Illustrated Stories From For The Girls
Lia And The Queen

"Now, my sweet slave… what can we teach you this evening?" She approached the bed, and Lia quivered a little. "Oh, come now," the Queen said, sitting gently down beside her and cupping the girl's cheek in her palm. "There's no need to fear me, my little flower. We are here for pleasure, not pain."
The Queen drew her in and kissed her, the older woman's soft lips tasting faintly of wine. Lia abruptly sat back, conflicted. The brief kiss had ignited a fire in her loins, unexpectedly pleasurable yet at odds with who and what she thought she was.
Read on...
By The Campfire

Now his muscular arms were reaching for her, and she was enveloped in an embrace like coming home. His kisses were gentle and loving at first, but soon they became more urgent. He began kissing her neck, on the spot that always made her shiver, and she giggled at the sensation. His fingers were pulling at her shirt buttons, easing their way past her bra and tweaking her rapidly hardening nipples. She did her own exploring, wriggling her hand into his pants and grasping his hard cock...
Read on...
Threesome By Appointment

Lisa found herself wondering at the whole situation. Here she was, sitting half-dressed on the couch between her husband of six years and a gorgeously well built and exceedingly suave male escort. They were all sipping drinks and courteously discussing the weather as if what was about to happen were a normal, everyday occurrence. Her heart was beating madly, her panties were soaked in anticipation, and yet it all seemed so terribly unreal. It was all her idea, of course...
Read on...
Cream

You push me gently back on the bed, urging my legs open and running light fingertips across my creamy white thighs. I rest against cream-coloured cotton sheets, soft with use and welcoming against my skin. I imagine that the bed is a bowl of cream and I am floating in it, surrounded by soft, silky lushness.
You have placed a silver jug of pure cream by the bed. Now you hold it above my prone body with a mischievous smile, one corner of your mouth turned up with glee. You tilt the jug but don't allow the contents to spill just yet...
Read on...
We Recommend...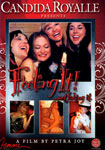 Feeling It! by British director Petra Joy embraces the motto of "feeling it, not faking it!" Packed with real female fantasies and sizzling sex, it's a gorgeous film.
Want More Fiction?
Don't forget to
visit the AVS section
for more stories plus instant access to hundreds of other quality sites.
Remember,
For The Girls
also features a huge archive of exclusive erotic fiction.
Women's Erotica
Sex Fantasy Stories has been around since 2001. In the last decade, women's erotica has grown a great deal.
Read our article:
A look at women's erotica
Bonus Galleries